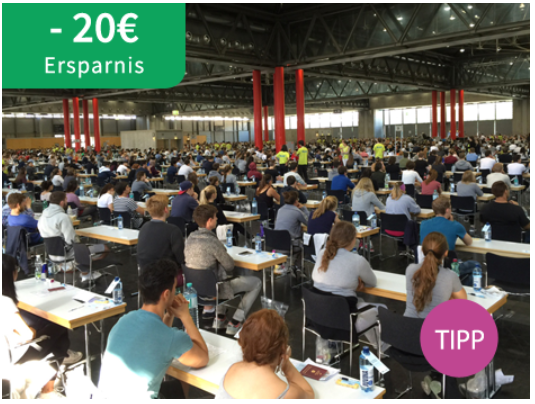 20€ discount for preparation courses
while stocks last
End date 0 Days
Save 20€ student discount on preparation courses at aufnahmeprüfung.at and get a head start in your studies!
Der Deal ist zurzeit nicht aktiv.
deal info
Get information about the admission procedure for your studies and get 20€ student discount with edudeal on your preparation courses at aufnahmeprüfung.at!
aufnahmeprüfung.at offers you the following assistance:
In more than 150 articles written by students, you can find out facts, experiences and tips about the admission procedures at universities and universities of applied sciences.
Preparation courses are not the only way to prepare for the entrance exam, but they are a particularly efficient and effective way. Based on clearly defined quality criteria, aufnahmeprüfung.at therefore recommends selected courses from experienced trainers whom you can contact personally in advance.
On the Facebook– and Instagram pages of aufnahmeprüfung.at you can find the latest news on the topic of entrance tests and you can exchange information with other people who are currently preparing for an entrance exam or aptitude test. Videos on individual entrance tests and preparation courses can be found on the YouTube channel of aufnahmeprüfung.at.