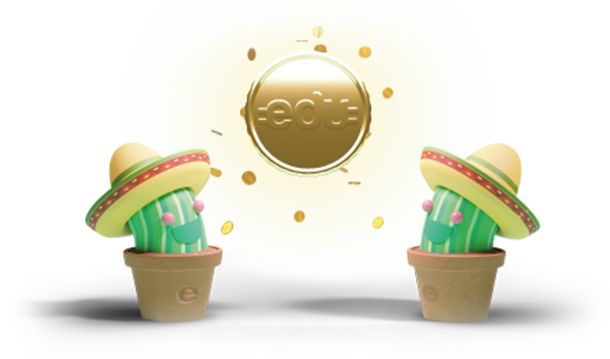 Invite your friends & get educoins!
Now both you and everyone you invite will get
11€ in educoins
(1.100 educoins) per successful invite.

FAQs
What are educoins?
- educoins are your bonus points at educom and edustore
1 educoin = 1 cent, so this means 1,000 educoins are therefore € 10,-
Your benefits:
- use educom for free: For example, you can use the collected educoins directly as a payment method for your tariff!
This way you can use educom for free. The more friends you invite, the less you pay for your tariff!
How do educoins work?
- Log in, click on 'my account' and then on educoins
Here you can see your current educoins balance and your previous educoins transactions
How can I collect educoins?
- Subscribe to the educom or edustore newsletter (567 educoins)
- Invite your friends to an educom mobile plan or accept a friend's invitation* (1.100 educoins)
- If you are 14 -20 years old, you can open a Bank Austria account and earn educoins. (1.500 educoins)
- Between 18 and 30 years old you get even more educoins when you open a new Bank Austria account (10.000 educoins)
- If you have received an edustore gift voucher: In your account, click on convert giftcard code
How do I redeem educoins?
1. For discount on laptops, etc.:
- You can redeem your educoins on the shopping cart page** or at the checkout
- Here you can also determine how many educoins you want to redeem
2. For vouchers at Amazon, Netflix, etc.:
- Add a voucher to your shopping cart and redeem your educoins directly on the shopping cart page**
- Vouchers that have the same price as your educoins will be paid automatically with them
- For all other vouchers you can decide by yourself how many educoins you want to redeem
*An invite from a friend cannot be combined with an invite link that you have received from your university or ÖH for example. If both invites are activated, the invite from your friend will be selected automatically.
**Please log in and add a product to your shopping cart to see your educoins balance here